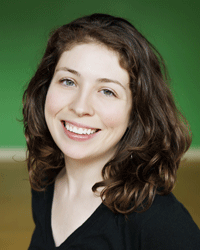 Sarah received her massage training at the Chicago School of Massage Therapy, Chicago School of Thai Massage, and Zen Shiatsu Chicago. She incorporates stretching, acupressure, and trigger point therapy into her work so that clients can experience an all-encompassing massage.
Sarah travels to Thailand every few years to continue study with master teacher, Pichet Bonthumme. She has also completed extensive study, and will continue to pursue education in Chi nei Tsang (Taoist Abdominal Massage). This style of bodywork can be transformative, and help the recipient to process on both physical and emotional levels.
She is trained in pregnancy massage and works with women postpartum to help strengthen their bodies after childbirth. She is certified in Bodywork for the Childbearing Year and was a birth doula. Sarah has also completed continuing education in Clinical Massage for Rotator Cuff and Shoulder Dysfunction, Myofascial Release for the Pelvis and Low Back, and Oncology Massage. Sarah is a licensed massage therapist (LMT), a professional Shiatsu practitioner (AOBTA-CP), and a Registered Thai therapist (RTT).
Education
Therapeutic Breast Massage with Aubrey Lesicki, 2020
Breast Massage for Lactation with Aubrey Lesicki, 2020
Aerial Yoga Teacher Training Level 1, with Wild Roots Yoga, Jessi Rae, 2018
Visceral Manipulation: The Thorax Level 4, Barral Institute with Peter Coppola, PT, BI-D, 2018
Yoga Teacher Training, 200 hours, with Sivananda International Yoga Vedanta Center, 2018
Visceral Manipulation: The Pelvis Level 3, Barral Institute with Peter Coppola, PT, BI-D, 2017
Burn Scar Massage Therapy with Jennifer D Hartley, 2017
Postgraduate Clinical Shiatsu Studies with Michael DeAgro 2016-2017
Independent Study of Thai Massage with Pichet Boonthumme, Chiang Mai, Thailand 2011, 2014, 2017
Tok Sen with LeeLa Monthip, Chiang Mai, Thailand 2017
Post-Partum Thai Massage, Ong's School of Thai Massage, Chiang Mai, Thailand 2017
Visceral Manipilation: Abdomen Level 2, Barral Institute with Dee Ahern, PT, 2017
Advanced Abdominal Massage (Thai Tradition) with Felicity Joy 2014, 2015, 2016
Neuro-Muscular Reprogramming with Jocelyn Olivier and Dion Moses, Modules 1 & 2, Hips and Low Back, and Integrating Hips and Shoulders, 2016
Visceral Manipulation: Abdomen Level 1, Barral Institute with Brandi Kirk PT, BCB-PMD, PRPC, 2016
Warriors at Ease: Fundamentals of Teaching Yoga and Meditation in Military Communities, 2015
Reflexology with Treesha DiGuido, 2014, 2015
Shiatsu Symposium with Patrizia Stefanini, Cliff Andrews, and Paul Lundberg, 2015
Busting Taboos About Breast Cancer with Pam Fergueson, Zen Shiatsu, 2015
Meditation Teacher Training Certification, with Lama Lobsang Palden, completed 2015
Healing the Joints with Lindy Ferrigno (Shiatsu), 2014
Fascial-Pelvis Myofascial Release, John Barnes Approach, with Scott van Niekerk, 2013
Shiatsu for End of Life, Zen Shiatsu Chicago, 2012
Chi Nei Tsang (Abdominal Massage) with Chris Ray, 2012
Advanced Thai Bodywork Techniques with Chris Ray, 2012, 2013
Zen Shiatsu Certification Program, Zen Shiatsu Chicago, 2011-2015
Shiatsu for Low Back Pain, Zen Shiatsu Chicago, 2011
Chicago School of Thai Massage Graduate 2010
Oncology Massage with Isabel Adkins 2008, 2009
Clinical Treatment of Head, Neck, Shoulders with Bob King 2009
Clinical Treatment of Low Back with Bob King 2008
Manual Lymphatic Drainage, Level 1, Upledger Institute 2007
Rotator Cuff Dysfunction with Wayne Hussey 2007
Bodywork for the Childbearing Year with Kate Jordan, Certified 2007
Chicago School of Massage Therapy Graduate 2006
Saint Louis University, B.A. 2002
*Fluent in Spanish
Professional Organizations and Affiliations
RYT--200 hour, Yoga Alliance
Associated Bodywork and Massage Professionals (ABMP)
Professional Member in The Society for Oncology Massage (2008-2016)
National Certification Board for Therapeutic Massage and Bodywork (NCBTMB)
Registered Thai Massage Therapist in the Thai Healing Alliance (THAI)
Professional member of AOBTA (The American Organization for Bodywork Therapies of Asia)
Founding Member of the Massage Advocacy Project of Chicago, affiliated with Working America
Licensed Massage Therapist in the state of Illinois (LMT)
CPR Certified